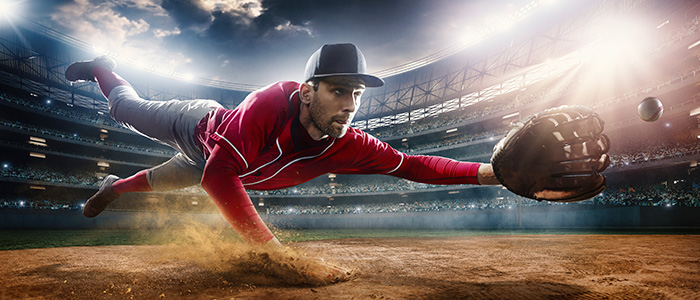 Philadelphia Phillies prospect Matt Imhof lost his right eye in 2016 after suffering a freak injury during a normal training session.
He was the 47th overall pick in the 2014 draft.
Even though his injury did not occur on the playing field, the incident has brought significant attention to sports-related eye injuries.
Here are some of facts about sports-related eye injuries:
Eye injuries are the leading cause of blindness in children in the United States and most injuries occurring in school-aged children are sports-related.
One-third of the victims of sports-related eye injuries are children.
Every 13 minutes, an emergency room in the United States treats a sports-related eye injury.
These injuries account for an estimated 100,000 physician visits per year at a cost of more than $175 million.
Ninety percent of sports-related eye injuries can be avoided with the use of protective eyewear.
Protective eyewear includes safety glasses and goggles, safety shields, and eye guards designed for a particular sport.
Protective eyewear lenses are made of Polycarbonate or Trivex.
Ordinary prescription glasses, contact lenses, and sunglasses do not protect against eye injuries. Safety goggles should be worn over them.
The highest risk sports are:
Paintball
Baseball
Basketball
Racquet Sports
Boxing and Martial Arts
The most common injuries associated with sports are:
Abrasions and contusions
Detached retinas
Corneal lacerations and abrasions
Cataracts
Hemorrhages
Loss of an eye
There is a law in New Jersey that has been in effect since 2006 that mandates any child who wears corrective eyeglasses must wear sports glasses when playing certain sports.
Protective sports glasses lenses must be made of polycarbonate or trivex material that are shatterproof. Sport glasses frames are constructed from a variety of materials, including plastic and carbon fiber. The temples, the part that rests on the ears, are usually made from rubber-type materials that permit greater comfort by preventing the glasses from moving too much during athletic activity.
The protective eyewear is required to meet the frame (and lens) standards of the American Society for Testing and Materials (ASTM F803 1) and lens standards of the American National Standards Institute (ANSI Z87.00).
The sports included are: racquetball, squash, tennis, women's lacrosse, basketball, women's field hockey, badminton, paddleball, soccer, volleyball, baseball or softball, sponsored by a school, community or government agency.
Article contributed by Dr. Brian Wnorowski, M.D.
The content of this blog cannot be reproduced or duplicated without the express written consent of Eye IQ